A long time ago in a galaxy not quite so far away, I was given a set of books for my birthday. Thanks Dad! Little did you know how they would alter my life.

I'm going to back up just a touch. A year or so before this birthday (I remember the birthday vividly but I don't actually remember how old I was) my dad discovered I'd never seen Star Wars. He was surprised and a little appalled… He promptly rented all three of them. That was back in the days of VHS and before the remastered versions came out. Then we set up the "movie" experience in my living room. That basically meant I got to eat dinner in the lazy chair that we pulled up in front of the TV. I proceeded to watch all three movies. I can't remember if I watched them all at once or got through two of them and had to take a break, it was a while ago. Maybe even close to twenty years. I was hooked.

Now back to this birthday, and those books… Dad didn't wrap my presents, he just put them in a bag. No big deal for me though. So they handed me my first gift, which was the VHS trilogy of the remastered Star Wars movies. I was thrilled. Then they handed me three books. I studied them, as I'm wont to do with books, noted the Star Wars big across the top of all of them, and was super excited. Those books were Heir to the Empire, Dark Force Rising, and The Last Command. (Looking at the dates of publication, it must have been 1994 or so. I was probably 13 or 14.)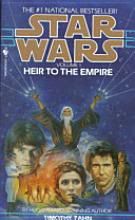 I
still have those books. I love those books. They are still some of my favorite. Many of my favorite fictional characters stemmed from those books and Timothy Zahn is still my favorite author. I've read a ton of books since then, including a bazillion Star Wars books – but they still hold up as some of the best.
When I was in the bookstore the other day (Incidentally just a couple of days after my most recent birthday earlier this month) my boyfriend, the Irish Sailor, pointed out a hardback Star Wars book with a nice shiny silver cover and the words Heir to the Empire on it. I grabbed it of course and my hands almost started shaking – for several reasons. It was the 20th anniversary edition of a book that had literally changed my life, and I couldn't believe it had been 20 years since it was published. That last bit kind of hurt my brain.
All else forgotten I sat down on the floor of the bookstore and started to read through the special introductions, the new novella, and the really interesting author/publisher notes in the margins of the book. I had to have it.
My copy arrived yesterday and I carried it around for a while, much like a kid does with a blanket, then I put it on my desk and gazed at it with tears in my eyes, then I carried it around a little more. I read the novella last night.

I'm a nerd, I know, but still… Books have the power to change lives… My first attempt at a real novel was set in the Star Wars universe. I had my own characters, but I used that huge setting. One of my all time favorite characters of my own (she's making me say she is my favorite character ever, it's true, I won't deny it) started as a Star Wars character. I managed a few hyperspace accidents and brought her back to earth so I could actually write some of her stories too. I'm not sure I'd be on the writing path that I'm on without Star Wars and the ideas it has inspired.
So Happy Anniversary Heir to the Empire. Mr. Zahn, thank you for writing such an amazing book and propelling the Star Wars Universe into the written word.